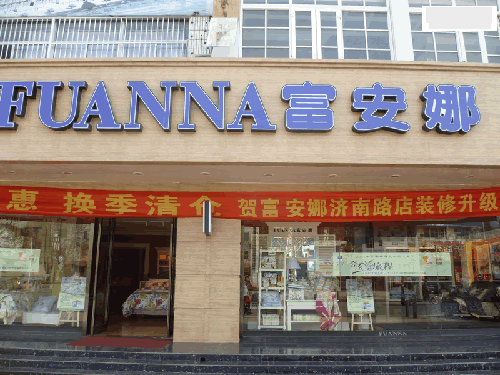 On October 18, Fu Anna, a well-known home textile company, launched the "Thousand sets of plans": In Shenzhen, which is very expensive, it invested heavily in subsidizing employees to buy houses, and the first batch of employees realized the dream of living in more than 100 employees. According to the plan, Fuanna will also provide more than 1,000 houses for its employees.
Before Fu Anna, in Shenzhen, Tencent launched the "Homesteading Plan." Fu Anna, with a market value of only several billion yuan, dwarfs Tencent, which has a market value of 300 billion yuan. Fu Anna's "One Thousand Sets" has aroused people's heated discussion on the home textile industry.
As a branch of the traditional industry, with the decline of textile enterprises, which mainly consist of state-owned enterprises, the home textile industry has long been in a "marginalized" position. More than 10 years ago, the domestic textile industry still exists as a simple product form such as a quilt and a quilt cover. Compared with other industries, Home Textile's consumer culture and home textile culture also started late.
After 2000, the Chinese real estate industry sang all the way. As the Chinese national textile industry, which is closely related to the development of the real estate industry, has entered a period of rapid development, product categories have gradually expanded to towels (towels, bath towels, etc.), bedding (sheets, quilts, etc.) ), blankets (carpets, tapestries, etc.), belts (fringe, trimmings, etc.), curtains (curtains, shower curtains, etc.), sofas, and various types of cushions, etc. "the concept of. Under the background of "everybody spinning", how to purchase and how to match it has become an increasingly concerned topic for consumers' home life.
The responsible person of China National Textile and Apparel Council pointed out that despite being affected by many factors such as rising raw material prices, rising labor costs, exchange rate fluctuations, domestic and foreign economic environment, and international financial crisis, it is the home textile industry of the three major terminal industries in the domestic textile industry. During the "Eleventh Five-Year Plan" period, it still maintained double-digit growth, and the profit rate of industrial clusters was significantly higher than that of other textile industries. At the same time, the potential consumption of the home textile industry continues to increase in the proportion of the total consumption of the three major textile products.
At the same time, the proportion of home textiles consumption in the large textile industry and per capita consumption is generally low. The "Investment Analysis and Prospect Forecast Report of China's Domestic Textile Markets 2011-2015" released by the China Investment Consultant shows that according to the consumption habits of developed countries, the three types of consumption of clothing, home textiles, and industrial textiles (in terms of fiber consumption) should each be accounted for. One third of the total market consumption.
At present, China's clothing accounts for 80%, home textiles only account for about 12%, industrial textiles account for 8%, and household textiles' per capita consumption accounts for less than 1% of consumer spending. Accompanied by the improvement of domestic consumer spending and changes in consumer attitudes, it is expected that in the coming years, the demand for home textiles will maintain rapid growth.
Lin Guofang, chairman of Fu Anna, said that in the next 10 years, the annual growth rate of the home textile consumer market will not be less than 20%, and the increase in per capita consumption will increase by more than one percentage point, and the newly increased demand will be more than 30 billion yuan each year. With the upgrading of home textiles consumption, the concentration of the industry will also be further improved, which is very good for leaders who have mastered core competitiveness.
As the textile branch of the home textile industry is a traditional manufacturing industry, home textile industry has a dual nature, on the one hand it has "warm" rigid consumer demand, on the one hand, there are also to play "beautification" home function. Therefore, the product's creativity becomes its most important purchase factor.
According to a survey, appearance factors such as color and pattern are the main considerations for consumers to purchase home textile products. The unique and creative appearance design of home textile products not only shows individuality, but also reflects many fashionable elements.
Yang Zhaohua, president of the China Home Textiles Industry Association, believes that under the background that China has grown into a world-consuming country, the principle of "design is king" in the fashion industry is also common in home textile products.
According to reports, in the industry, Fu Anna first proposed to do "artist spinning", "original design, innovation and development" as the core competitiveness of enterprise development, put the most energy to create more consumer demand; opened the first domestic bed Supply stores, the first "direct" and "joining" collaborative development model. At present, this marketing model has become the industry standard.
Responding to new innovations in craftsmanship and patterns, Fu Anna has also been at the forefront of the industry in terms of product research and development: In the country, she first applied flat-screen printing and dyeing technology to beddings for R&D, production, and large-scale operations; Combining high-precision, super-returned single jacquard technology with silk fabrics...
"Many companies in the home textile industry are simply pursuing scale, relying on domestic cheap labor to do 'generation factories', which is not conducive to the development of the industry. Home textile companies need to adjust their structure, investment in science and technology, and develop new products from the 'edge industry' to the stage center. There are many efforts in other areas," said Lin Guofang.
In order to allow "Artist Spinning" to better meet the needs of consumers, Fuanna also required all new employees (especially designers) to go to the sales terminal for a period of time to understand their real needs in communicating with consumers. In just over 10 years, Fu Anna has innovatively developed more than 20 series of products including bedding, home textile accessories, and household goods. At present, Fu Anna has established more than 1,700 specialty store cabinets nationwide and has established international trade sales platforms including Europe, America, Australia, and Asia on a global scale.
Printing In Width,Print Sizes ,Paper Size Printer ,Standard Printer Paper
Knitting & Crocheting Fabric Co., Ltd. , http://www.nbdyeing.com